BRAINDANCE ANNOUNCES A HEADLINING RECORD RELEASE
PERFORMANCE FOR 'MASTER OF DISGUISE' ON SUNDAY NIGHT,
MARCH 6TH AT LE POISSON ROUGE IN NEW YORK CITY
facebook event page|le poisson rouge|advance tickets
thanks to everyone who came out to LPR and Santos to make our long overdue return to the stage a success.
please join us this upcoming march 6th as we return to headline le poisson rouge in downtown new york city.
the future is upon us...and it's oh, so tasty.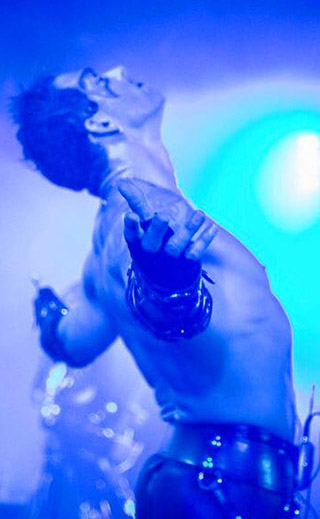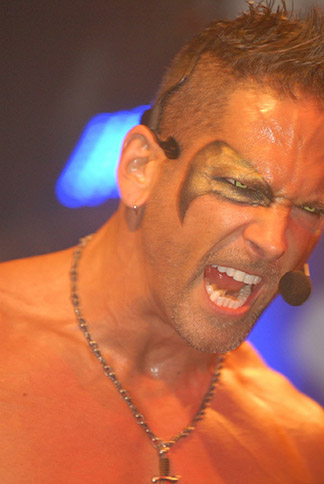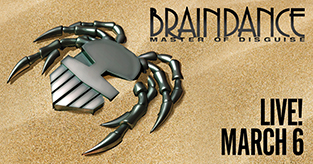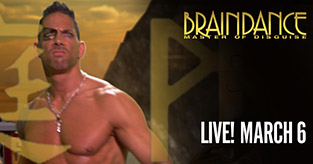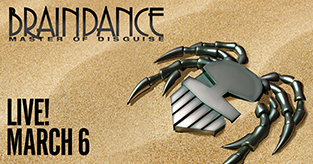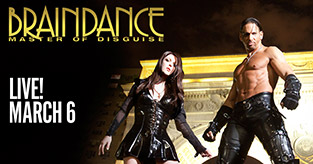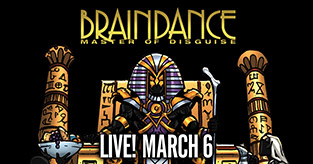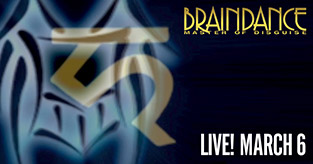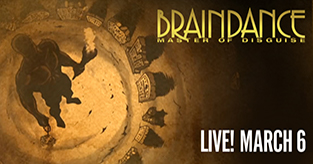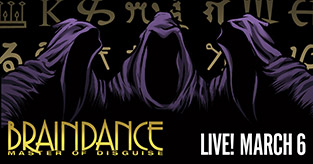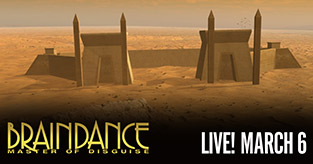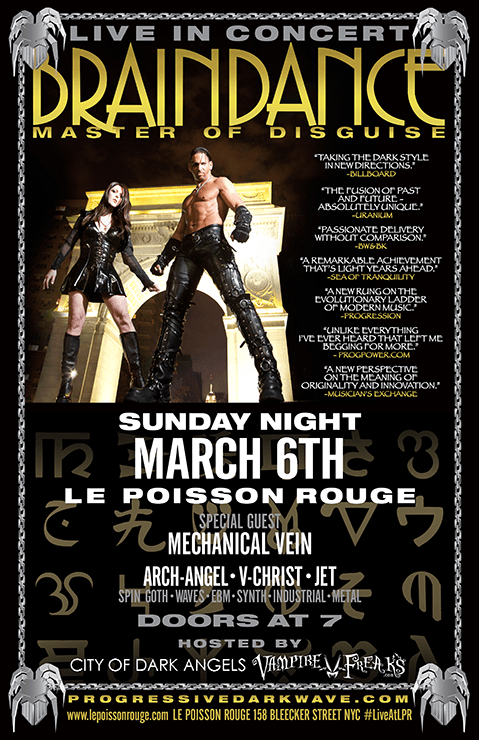 PROGRESSIVE DARKWAVE RECORDINGS OFFICIALLY PARTNERS WITH GERMANY'S DR. MUSIC FOR THE EUROPEAN RELEASE OF MASTER OF DISGUISE
as of february 26th, progressive darkwave recordings officially partners with germany's dr. music for the european release of master of disguise. one year after the domestic release of the long-awaited fourth braindance album, we are proud to offer worldwide availability in both physical and digital formats via the following locations
Amazon|Saturn|Media Markt|Exlibris|JPC|Grooves Inc.|WOM|iTunes

Amazon MP3|Rhapsody|Spotify|Deezer
BRAINDANCE RELEASES 'MASTER OF DISGUISE'
LONG-AWAITED CONCEPT ALBUM
CONTAINING FIVE SINGLES, EPIC TRILOGY,
GROUNDBREAKING PACKAGING AND 16 PAGE COMIC


first off, the new album, 'master of disguise,' our fourth official release and our first
full length concept album, includes the maximum amount of material permitted by law.
for the extensive wait, we've given you 15 tracks - no less than five singles,
two of our trademark sampling collages, the epic three part 'valley of the kings' saga,
and next level songwriting and performances you've come to expect from braindance.
new rhythm guitarist/programmer tony geballe, bassist andy bunk, percussionist stygmie
von skunk-a-loohvff and backing vocalists natalia & beka join renowned
producer/guitarist/songwriter vora vor and singer/songwriter sebastian elliott
in presenting another groundbreaking leap forward.
the phenomenal packaging, designed by sebastian elliott and kevin beard,
contains the 16 page 'master of disguise' comic, written and imagined by elliott,
illustrated by the incredible joe simko, and colored by keiran oats of cadence comics.
picking up individual songs online simply won't do -
the six panel, secret compartment, booklet & foldout containing, gold leaf embossed
digipak from our friends at ross ellis printing is surely destined to be a collector's item.
'LOST'
FX DRIVEN VIDEO
FOR FIRST SINGLE BECOMES AVAILABLE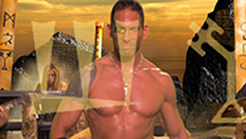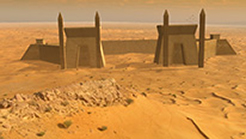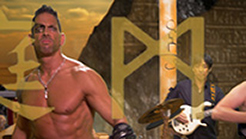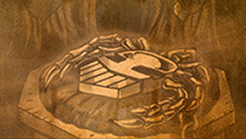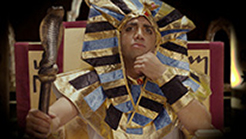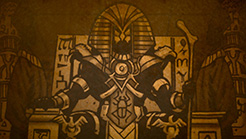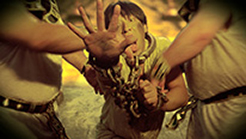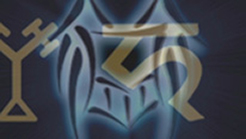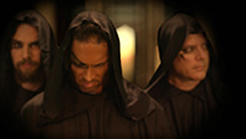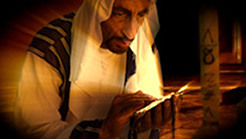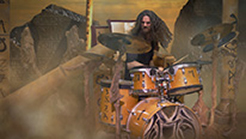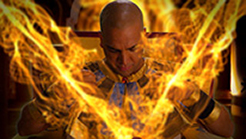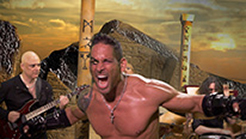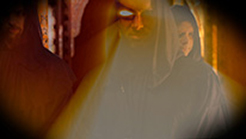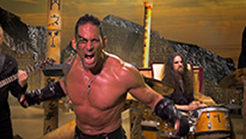 then there's the new video for the first single, 'lost,' that we hope you've already seen.
directed by the visionary tony hanson of staten island's fenix studios, the video
combines several key elements already present in the album and extensive packaging.
live performances, thematic action sequences, professional (and not so professional) acting,
eye-grabbing special effects, and computer based visuals built from the ground up make the video
a total feast for the senses. in addition, there's an completely animated video for the song, constructed
by konstantin vilenchitz of kon def productions, that can be accessed from the brainmedia page as well.
PROGRESSIVEDARKWAVE.COM
NEW WEBSITE WITH
NEW MEDIA SAMPLES, MERCHANDISE, PHOTOS
AND INFORMATION LAUNCHED
which brings us to the new website, courtesy of glenn westrom & schuyler bush of mule train,
resplendent with stellar new artwork, new sound & video samples, and photos both old & new.
visit the merch page to pick up the new release as well as some sweet new apparel and stickers.
if you haven't already gotten your copies of redemption, fear itself, or shadows for thirsty
friends and hungry family members, feel free to stock up accordingly. drop us an email to be
kept in the loop with any and all and information, and - if it's not too much much to ask -
we'd also like you to spread the word about braindance and master of disguise by not only
referring your friends and enemies to the site, but by touching base with us
on facebook here and on twitter here.
ALL STAR LINEUP ANNOUNCED
FOR UPCOMING LIVE PERFORMANCES
while we're on the subject, facebook invites will be the best way to prepare yourself and
your entourage for upcoming dazzling live performances supporting master of disguise.
we've assembled the ultimate team to present braindance material both old and new.
now a seven piece - the percussive wonderkind kenny grohowski, guitarist tony geballe,
bassist eiki matsumoto (braindance class of 1992-1996), keyboardist elektra, and backing
vocalist natalia will be joining the dynamic duo of vor and elliott on stage within months.
SHADOWS AND FEAR ITSELF COMPLETELY SOLD OUT
RE-RELEASE OF BOTH TO FOLLOW
please note that we are now completely sold out of copies of both shadows and fear itself, and the paypal links at http://progressivedarkwave.com/brainmerch.html are not functional. we will be remixing, remastering, redesigning and repackaging both as soon as possible - with a few surprises thrown in there for you as well.
'SENTINEL OF ETERNITY'
EBM SIDE PROJECT FROM
SEBASTIAN ELLIOTT ANNOUNCED

in conclusion, feel free to check out sebastian's new side project, sentinel of eternity.
written and recorded over the last few years with visionary electronic french composer
stephan marty and talented digital artist salandre, sentinel of eternity combines
goth, synthpop, ebm, and darkwave in a completely different vein than braindance.
the website, featuring sound samples and the opportunity to pick up the self-titled
first release, including the dance floor-friendly single, 'mandragore,' can be found at progessivedarkwave.com/sebastianelliott/.
stay tuned for further updates including
information on official remixes and live performances.
the future is upon us - and it's oh, so tasty...